Featured API Ring Gasket Products
Ring gaskets are often used as seals which remain functional in critical high pressure and temperature situations. They are made of solid metal and designed for use in closures which are made specially to accept them. API ring gaskets are commonly used in high-pressure oil field drilling, production and transportation service and in the chemical process industry. Ring gaskets are typically applied in situations of pressured up to 15,000 psi, high temperature, systems handling highly corrosive fluids, and extreme service conditions which require an extra level of safety provided by metal seals. Our gaskets are usually oval or octagonal, precision machined from solid metal billets. The gaskets may be made of any type of metals suitable for use in the operating environment.
We offer Various API Metal Ring Gaskets Materials Including:
Low Carbon Steel 'S'
Soft Iron 'D'
304 SS
316 SS
F5
Special Alloys From Inc. 825 to Tyco 12
Gulf Tool stocks and distributes these ring types:
Oval
Octag
BX
RX
Transition Rings
Rubber Coated Test Rings and Combinations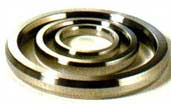 &nbsp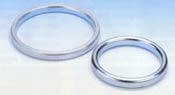 &nbsp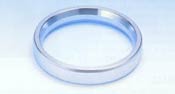 &nbsp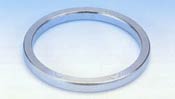 Pipeline repair clamps are used for repairing pit holes, splits and corrosion leaks in both steel and cast iron pipe lines. The clamp is totally effective under extreme pressure or temperature. Repair clamps attach to any section of a pipeline without interrupting its normal operation. No welding is required as, special bolting is used instead to compress the packing seals around the pipe at both ends of the clamp. The integrity of the seal is simple to verify by pressurization of the annulus between the clamp body and the pipe.
Standard Features
Available in most ANSI and customer specified pressure ratings.
Wide Seal Contact Area for maximum sealing reliability.
Fitting is fully weldable after installation.
Hinges standard on 8 inch and larger sizes.
Readily modified for hot-tap or line-stop applications.
Advanced clamp designs reduce clamp weight and bending loads.
Seals are easily replaceable in the field.
Xylan Coated Fasteners reduce friction and corrosion.
Vent/Injection ports standard on all sizes.
Design based on requirements in API-6H and ASME Section 8, Divisions 1 and 2.

&nbsp

&nbsp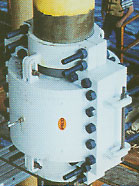 &nbsp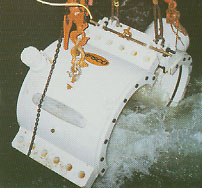 Tie Down Systems
| | |
| --- | --- |
| Gulf Tool Company | Gulf Tool is available 24 hours |
| PO Box 475 | Phone: 504-366-8595 |
| Harvey, LA 70059 | Toll Free: 800-783-GULF (4853) |
| &nbsp | Fax: 504-362-3941 |
| &nbsp | OR E-Mail: sales@gulftool.com |